Journey Preview Roundup
Posted by Aaron on February 7th, 2011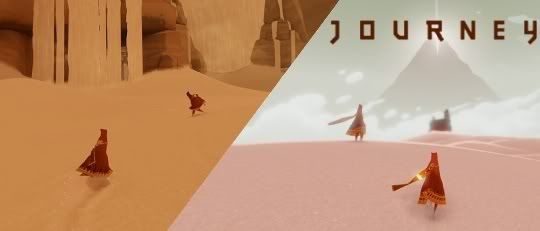 As many of you probably know, last week was a big week for Journey.  Here's a roundup of the news released last week:
"Journey Co-Op Impressions"
GameSpot previews what co-op is like in Journey.  Journey takes quite a different take on co-op, so this is a great read if you are interested in the online gameplay.
http://www.gamespot.com/ps3/adventure/journey/news.html?sid=6297312&mode=previews
"Journey Takes Three Hours to Finish"
Game blog thesixthaxis talks of how Journey's single player mode supposedly lasts as long as Gilligan's tour was supposed to, but just like Journey, the trip can last a lot longer (though Journey will probably have fewer radio coconuts and islands).
http://www.thesixthaxis.com/2011/02/01/journey-3-hours-to-finish/
"Journey Preview"
thesixthaxis has another article about Journey, and this one is longer, but a lot more in-depth!
http://www.thesixthaxis.com/2011/02/01/preview-journey/
"Chatting About Journey With thatgamecompany"
Sony Europe is at it this time with a video interview of Jenova Chen and Robin Hunicke in London.  So now you can say that you (literally) heard it on the internet.  With Journey, we are looking for a "simple yet delicate form of communication."
http://blog.eu.playstation.com/2011/02/04/chatting-about-journey-with-thatgamecompany/
So, comment below and let us know what you think so far!
6 Comments:
February 7th, 2011 at 8:45 pm
And now we play the waiting game.
Can't wait to hear that release date. Announcement inbound for the PSblog first?
February 10th, 2011 at 1:26 pm
I second a release date announcment.
February 10th, 2011 at 7:30 pm
I saw the video interview on the PS3 blog and was intrigued by this mysterious yet simple game. When I realised that it was the same makers as Flower – the demo of which I had enjoyed a while back – it all twigged. The similarity between the games' impressions – simplicity and freedom – really inspire me. So I went to the PSNstore and made my first purchase there, Flower and Flow. Finally an excellent immersive yet relaxing game to play and not leave me flushed! My wife is also quite excited about being able to really get into these games.
February 14th, 2011 at 2:06 pm
Keep up the good work! Journey looks incredible and i can't wait to play it.
February 27th, 2016 at 7:08 pm
I enjoy what you guys are up too. This sort of clever work and coverage!
Keep up the very good works guys I've you guys to our blogroll.
August 3rd, 2016 at 3:51 pm
It's an awesome piece of writing made for all the internet visitors; they are going
to take benefit from it I am sure.