Posted by Aaron on June 21st, 2011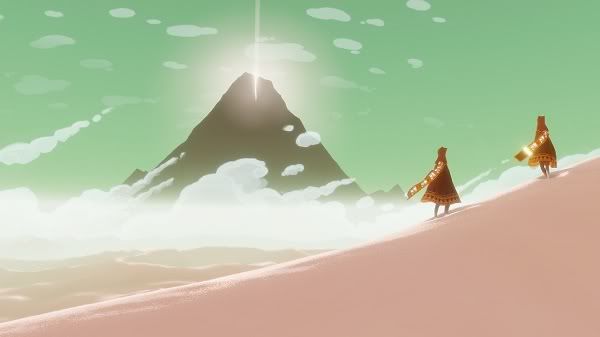 In case you missed the onslaught of news articles about Journey over the past two-and-a-half weeks, here's a roundup of Journey previews from E3 2011:
IGN: Journey: The Basics
"It's hard to know what Journey is just by looking at screenshots or watching the trailer, so let's take a closer look at one of the most beautiful games we've seen in years."
G4TV: Journey Hands-On Preview
"Since Journey doesn't feature dialogue or text-based info of any kind, you'll have to piece together what catastrophic event has befallen the game world and left in its post-apocalyptic ruin."
GameSpot: E3 2011: Journey Hands-On Preview
"Whether you decide to meet up is up to you. Like when you bump into someone during your trek up a mountain, you can decide to make the journey together or continue at your own pace, and there's always the possibility of bumping into the person at another point."
GamesRadar: Journey Hands-On Preview
"One of the first things you'll notice when exploring Journey's vast desert is the pleasure of movement. Everything from sliding down steep dunes to gliding is smooth, joyous, and playful, making the long trip towards the ever-dominant mountain in the distance really quite fun."
GameInformer: Uncover The Vast Mysteries Of A Desert In Journey
"Even though I was given no explicit directions, Journey's environmental design did an excellent job of leading me toward my next goal without any handholding which was refreshing and appreciated."
Check out more interviews in English as well as nihongo, Italiano, and Português by clicking the "more" button below.
Posted by Aaron on June 14th, 2011
Wow!  That was one heck of a week!  I've been busy tweeting and Facebooking about all of the awards and nominations that Journey has been getting, and there are a couple that the winners haven't been announced yet.
Anyways, a "News Roundup" thing wouldn't really work that well for E3, because there were dozens of articles all over teh interwebs from big sites, and even more from little indie sites.  So, I've decided to put up something that is more awesome than words!  Videos!  Here are five video interviews from GameTrailers TV, G4TV, IGN, and GameSpot.
Click on each image to open the video in a new tab/window:
GameTrailers TV
G4TV