Posted by Aaron on February 22nd, 2011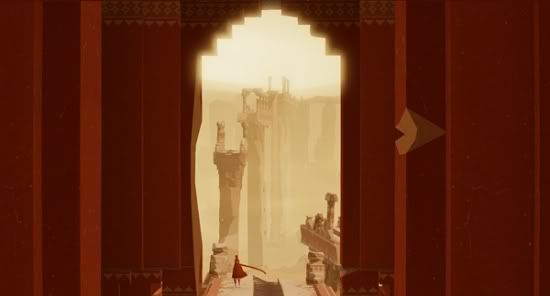 I tried having a longer title for this post because there are just so many things covered in this two part interview, but there's a limit to what one should do.  (And each part is a lot bigger than most other recent interviews.)  Even though this article was published back in December, it still has a lot of great information about TGC and our members' views on gaming.
What topics are talked about?
Artistry, prototyping, the industry as a whole (and compared to other industries), TGC's culture, and that's just on the first page!
If you'd really like to educate yourself on progressing the game industry or just like to hear what thatgamecompany has to say, here is one great two part article:
http://www.4colorrebellion.com/archives/2010/12/20/4cr-interviews-that-game-company/
http://www.4colorrebellion.com/archives/2010/12/23/4cr-interviews-that-game-company-part-2/
If you are as big a fan of finding out how the creative process works in all kinds of media as I am, make sure you read part 2!
Posted by Aaron on February 17th, 2011
Between March 16th and September 30th, 2012, The Smithsonian American Art Museum will have a gallery called, "The Art of Video Games."  The Smithsonian is exploring the 40-year evolution of video games.  From the humblest of beginnings on things nowhere near as powerful as your cell phone you stopped using 10 years ago, to these chunks of metal and plastic that would beat out any supercomputer just a few years ago.
http://www.americanart.si.edu/exhibitions/archive/2012/games/
What The Smithsonian has done is opened up a website where the public can vote on what they would want in the exhibition.  There are already games nominated, and each game only has two competitors, so don't worry about having too much trouble deciding which game you should vote for.
The reason we're telling you this is because flOw and Flower have both been nominated for inclusion in this!  flOw is up for the Next Generation Era/Modern Windows category and Flower is in the Next Generation Era/PlayStation 3 category.  So, go ahead and vote for two of your favorite games right here:
http://www.artofvideogames.org
And if you didn't notice, the banner for the The Art of Video Games voting website is surprisingly familiar…
Posted by Aaron on February 14th, 2011
It was another big week for Journey in the news, so here's a quick list of the great news on our game:
"Speaking with… Kellee Santiago, Co-Founder and President of thatgamecompany"
This doesn't have too much to do with Journey, but if you want to know what gaming experiences game developers have had growing up and their experiences in the video game industry, then you should read this!
http://newbreview.com/2011/02/11/speaking-with-kellee-santiago-co-founder-president-of-thatgamecompany/
"Journey Interview"
AtomicGamer tries to get to the heart of Journey in their interview of Kellee Santiago.  Unlike the last article, this one is all about Journey!
http://www.atomicgamer.com/articles/1193/journey-interview
"thatgamecompany presenta Journey, un juego que innova completamente"
For all of you people speaking Spanish, here's a runthrough of Journey, en Español.
http://districtgamers.com/juegos-ps/thatgamecompany-presenta-journey-un-juego-que-innova-completamente-1972/
"thatgamecompany's Journey is a 'unique, beautiful thing"
Here is a great preview of Journey, complete with quotes from Jenova!  There might be a couple spoilers for you if you want to experience everything brand new when you're playing the game.  Here's a safe quote:
"You're in the middle of the desert and there's nothing around you. We want to use design to drive you through the game with intuition and curiosity – and let you go at your own pace. There'd nobody shouting at you to get to Checkpoint B"
http://www.vg247.com/2011/02/08/journey-thatgamecompanys-latest-game-is-a-%E2%80%9Cunique-and-beautiful-thing%E2%80%9D/
"Journey Hands-on Preview"
This preview by VideoGamer focuses on the gameplay of Journey, and even talks about the prototype of Journey called "Dragon."  There are some gameplay spoilers in here, but you can search for "Dragon" and read about the prototype without spoiling too much about the gameplay.
Posted by Aaron on February 7th, 2011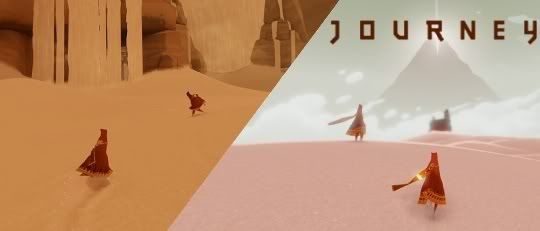 As many of you probably know, last week was a big week for Journey.  Here's a roundup of the news released last week:
"Journey Co-Op Impressions"
GameSpot previews what co-op is like in Journey.  Journey takes quite a different take on co-op, so this is a great read if you are interested in the online gameplay.
http://www.gamespot.com/ps3/adventure/journey/news.html?sid=6297312&mode=previews
"Journey Takes Three Hours to Finish"
Game blog thesixthaxis talks of how Journey's single player mode supposedly lasts as long as Gilligan's tour was supposed to, but just like Journey, the trip can last a lot longer (though Journey will probably have fewer radio coconuts and islands).
http://www.thesixthaxis.com/2011/02/01/journey-3-hours-to-finish/
"Journey Preview"
thesixthaxis has another article about Journey, and this one is longer, but a lot more in-depth!
http://www.thesixthaxis.com/2011/02/01/preview-journey/
"Chatting About Journey With thatgamecompany"
Sony Europe is at it this time with a video interview of Jenova Chen and Robin Hunicke in London.  So now you can say that you (literally) heard it on the internet.  With Journey, we are looking for a "simple yet delicate form of communication."
http://blog.eu.playstation.com/2011/02/04/chatting-about-journey-with-thatgamecompany/
So, comment below and let us know what you think so far!
Posted by Aaron on February 1st, 2011
News Everyone!  This is Aaron Grommesh, aka Amish Gramish (over on the forums), with my first post on the TGC blog, and I'm very glad to be here!
Kellee was interviewed by PlayStation Life Style on Journey, thatgamecompany, and gaming, so go ahead and read it!
http://playstationlifestyle.net/2011/01/31/journey-interview-%E2%80%93-psn-2011-preview/
They have more previews on PSN games, so make sure you visit the rest of the site!